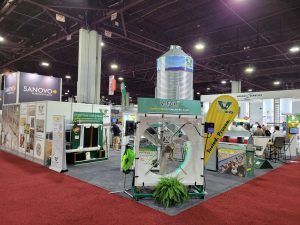 2022 brought back what is arguably the most exciting event in the industry, the International Production & Processing Expo. It also brought new COVID strains and the stress of pandemic business, but regardless, spirits remained high as poultry professionals from all walks of life came together.
Traffic and attendance were notable reduced as so many travel restrictions are still in place. Still, the show hall was buzzing with people sharing industry news, innovative products, and what to expect in the poultry world in 2022.
VAL-CO was honored to be a part of the Expo, as we are every year. We showcased some of our latest products and met with new and old customers alike, sharing our ideas to improve the efficiency and ease of poultry farming.
New Products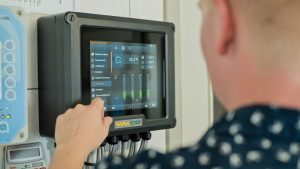 We've revamped our line of controller options in the last year. We released the Ventra XT – an upgraded Ventra control with remote capability when paired with VLink. We've also partnered with Hotraco to release the Fortica control to the US market, specifically the cage-free layer market right now. The connectivity of both of these controls can be expanded with the Smart VX Expansion Station that allows better control with built-in relays.
We've added a poly hopper to our floor feeding line-up. The poly hopper is lightweight and durable making it easy to remove and reposition in the farm, improving the longevity of the equipment due to the rustproof nature of the plastic.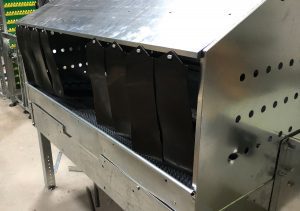 Our nesting product line has expanded to include the new Liberty I Aviary Colony Nesting System, designed to make birds comfortable going into an open nest to lay eggs. The larger nest holes and nest pads are inviting to the birds which helps prevent floor eggs and leads to greater output of high-quality eggs. Ventilation holes in the partitions help provide an ideal environment. An expeller pushes birds out when necessary to aid in keeping the nest pads clean and help prevent broodiness.
Lastly, we updated our Sentry Disinfectant Delivery System and introduced the NEW Sentry Plus! The updated model uses a high-pressure spray to deliver disinfectant to the surface of the vehicle. It is activated by sensors or a push-button and comes with an optional arch, hose, and spray nozzles.
Video Library
2022 was the year of the video! We spent a lot of time putting together a comprehensive video library on YouTube to improve our technical and product support system. Videos range from multi-part series on how to assemble our large nesting systems to short clips on the features and benefits of all the VAL-CO products you know and love. Check it out on our channel, @VALCOagri!
Subscribe to our blog!