UltraStart Chick Feeder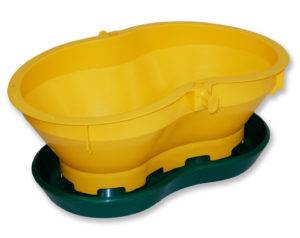 Ensuring that feed is always available to baby chicks is key in promoting good eating habits in young birds. The Ultra Start Chick Feeder holds more feed than any other chick feeder available. Place it along the feed line to fill automatically, or add the extra capacity hopper and place the feeders throughout the brood area. Because of their size and shape, fewer feeders are needed to feed more birds – each feeder can accommodate up to 30 birds! When you are finished using them, simply clip them onto the feed line to store them up out of the way.
The unique peanut shape on the UltraStart allows it to sit between feed pans to provide more feeder space and accommodate more birds. The feeder has an extended hopper that doubles the feeder volume and each feeder can be stored on the feed line with a clip kit.
UltraStart Chick Feeder Features & Benefits
Feed more birds with fewer feeders. Each feeder can accommodate up to 30 chicks.
Peanut shape comfortably sits between pans to provide more feeder space
Place along feed line to fill automatically
Additional Accessories
Fill less often with extended hopper that doubles feeder volume
Clip kit to store feeder on the feed line
No-stoop handle to easily pick up feeders