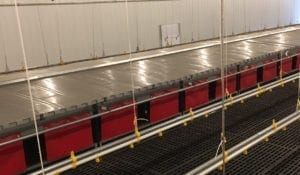 Recent research into nesting behavior has shown that nest type influences egg laying location. If nests are uncomfortable or space is inadequate, birds will resort to floor laying. This presents challenges to producers and processors that are in need of clean, damage free eggs.
The research has shown that the opposite is equally true – if the nests are highly preferred, birds will tolerate some discomfort to use it. Hens showed such strong preference for the wooden nest that it caused crowding and piling in the nest. Despite the crowded conditions, hens continued to return, en masse, to lay in the wooden nest, rather than find more space in a different nest type.
A total of 6 groups of 100 hens and 9 roosters had access to four nest types in a randomized location between the ages of 20 to 34 weeks. The hens were constantly monitored with cameras inside the nests during the age periods of 24–25 weeks and 26–27 weeks. No less than 70% of the eggs ended up in the wooden nest. Only 15% of the hens chose the plastic control nest, 10% the nest with the partition and 5% the ventilator nest.
Fabian Brockotter of Poultry World explores this research further. To learn more, visit this site.
The research was completed by Anna C.M. van den Oever of the Vencomatic Group & Wageningen University, Netherlands. The study compared four nest types and the behaviors expressed within them to determine hens' preferences. The full article is available here.