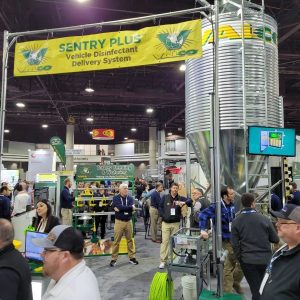 In case you missed it, the 2023 IPPE took place this week at the Georgia World Congress Center in Atlanta, GA. The show halls were brimming with renewed energy and excitement as the industry moves forward from AI, Covid, and economic challenges.
This year, VAL-CO showcased some of the newest developments that we have been working on over the past year. We introduced the Sentry Plus Disinfectant Delivery System our new poly hopper and a turkey poult feeder.
The Sentry Plus uses 20 nozzles to administer disinfectant to the sides and undercarriage of vehicles entering and exiting your farm. It is motion activated via sensor or manually started with a push button. An arch frame and top nozzle component are available.
The new Poly Hopper is lightweight but durable. Once assembled, it can be installed or removed without tools, just twist it into place. Hoppers can nest inside each other easily when not in use and won't rust or corrode like galvanized metal.
The Turkey Poult Feeder provides a great feed capacity in flood stages so that young birds have ready access to feed.
Other noteworthy products this year include the Oasis Cool Cell System, the variable speed V-Fan, the BigTom Turkey Drinker, the two-piece tower adult turkey feeder, and the flush mount fan transition with light traps which eliminates the need to build a doghouse if you have to retrofit light traps to your barn.
Want to take a tour of the booth? Check us out on Facebook! https://fb.watch/ijLYSZSIok/