The V-Fan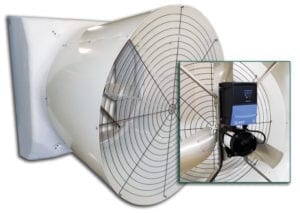 The VAL-CO V-Fan™ is a variable speed, direct drive fan that provides higher total CFM at full speed as well as remarkably high CFM/Watt measurements at low speeds. It's more efficient to use a 54" V-Fan running at low speed than a standard 36" fan running at full speed. A 54" V-Fan at 50% speed can move 13,400 CFM at .05" SP while achieving 53.8 CFM/Watt. That is more than a 300% increase in efficiency!
Features & Benefits
Delivers high CFM at top speeds
Provides high CFM/Watt at low speeds
Direct drive motor means less maintenance
Available in 1-Phase and 3-Phase, 200-230V input options.
Available sizes