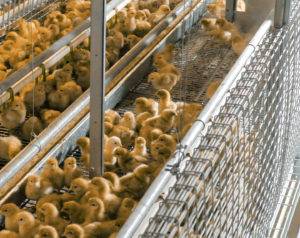 Baby Area Aviary Rearing System
The Baby Area Aviary System features lifting doors for easy access to the colony. All drinking lines are adjustable in height and feed is distributed via flat chain. All chicks start brooding on the first floor, providing the work force with easy inspection in the first weeks of age and less stress during cleaning and catching. A lifting platform with adjustable drinking line encourages the pullets to jump from the second week of age. The platform can be lifted from 10 cm. above the first floor up to the second floor. An adjustable perch above the feed trough minimizes feed wastage and prevents the birds from entering the trough. A folding outside rail and perch allows birds to move up and down from the floor. Also available in double-decker configuration.
Module Specs
Length: 118.5″ (3010mm)
53.8 sq. ft. (5 sq. m.) of usable area per linear meter of equipment.
More Information