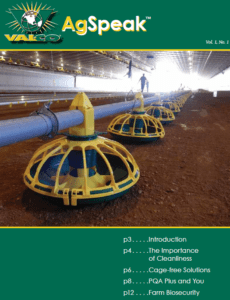 Welcome to the inaugural publication of AgSpeak. Within its covers we will address industry topics ranging from biosecurity to animal health and everything in between. You will be updated on our newest products, introduced to our employees, and invited to training opportunities.
VAL-CO's Mission is "Helping Animal Agriculture Feed A Hungry World". Each of us takes this mission seriously and we take great satisfaction in our contribution to feeding the world. Fulfilling our mission means that our success is tied directly to your success. And that is our motivation for continually improving our products and services – we want to help you succeed!
Providing you with this publication allows us to share information about industry trends and latest practices. We hope that you will take advantage of the opportunity to provide us feedback on your experiences and the challenges that you face as you do the honorable work of this industry. You can reach out to us with comments, questions, or suggestions at marcom@val-co.com.
Thank you for reading AgSpeak and for your partnership with VAL-CO!
Phil Risser
President & CEO
Valco Companies, Inc.